Do you want to save money on your prescription drugs? Are you on the Medicare part D plan and still feel like you're paying more than you should or want to find out if there's any other way to save money, read this to find out if GoodRx is the right choice for you.
GoodRx is a coupon program that offers medications at a discounted price, depending on the pharmacy that you're at. GoodRx then gets reimbursed or charges a fee to the pharmacy whenever you use the coupon, so it's not exactly insurance, it's a coupon program, but there may be times where the coupon that you can use for your prescription is better than a copay that you might have through an insurance plan. There are some medications on Medicare, for example, that get put into higher tiers and thus on a lot of plans have higher copays. This is a situation where GoodRx might be able to save you some money. To make it clear, you cannot use it with Medicare. So, for example, it's not like you can get the price for your Medicare prescription drug copay, and then apply GoodRx to the copay. That's not a viable option. However, when you go to pay for your medications, you can choose to either use your part D insurance however you have it through Medicare or you can use the GoodRx coupon. So, it's always a good idee to check, especially if you have any sort of copay. So if you're on a PVP plan that has $0 or $1 copay, well that's great, but if you have some sizeable copays, it's always a good idea to head over to GoodRx and check out the price, uh, that your medication would be available for. Again, it's not insurance, and what that means is you're not guaranteed set copays for the whole year. It's a coupon program that you can use while the coupon is available. We would not recommend getting rid of your prescription drug plan because right now there's a good coupon for your medications. This does not count as drug insurance and thus Medicare will penalize you. Also, it does not promise the coupon prices indefinitely into the future so check the price of your prescription drug copays versus the coupon price that GoodRx provides. You won't get in trouble for it. You won't get kicked off your prescription drug plan. It's really easy to do, so let's get into it here.
When you want to use GoodRx for your prescriptions go to goodrx.com. You can google it. At the top you can enter a medication. For example, if you entered lisinopril, you'll be able to see the copay on this at any pharmacy that's in the area. So you'll want to go ahead and click on whichever pharmacy you want to use, like Walgreens, for example. We included a picture below of what this would look like.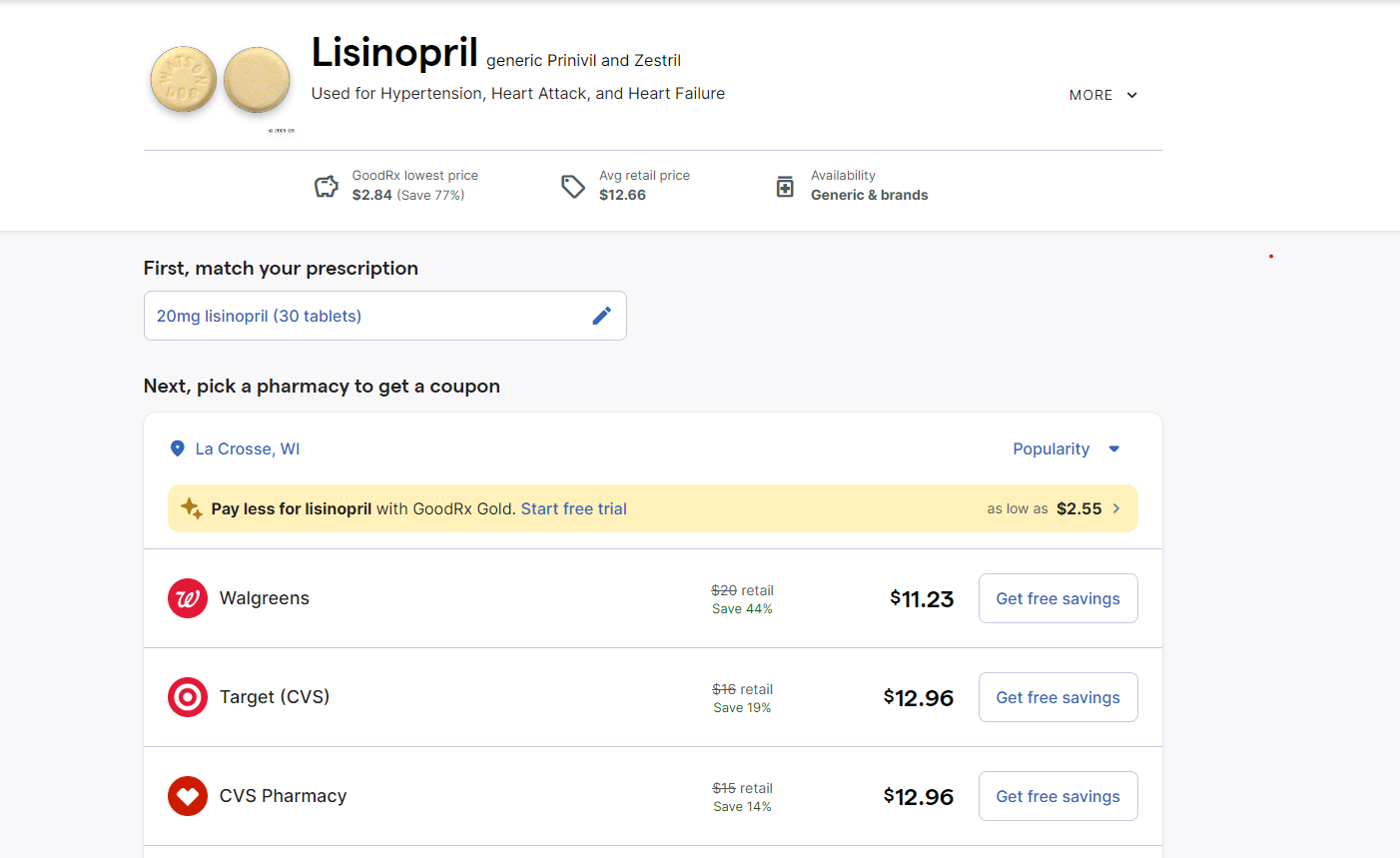 So if you want to use one of the coupons, all you need to do is hit the "Get free savings" button and this will give you a coupon code. You can present the code printing it and bringing the paper in, or just show them your phone or tablets. The pharmacist can enter these numbers here and get the price that's displayed on GoodRx. Most pharmacies are very familiar with this and will know exactly what you're talking about, so you don't need to be embarrased or nervous. So, there are specific medications that Medicare part D does not always cover, and this is a great opportunity to use GoodRx. Again, it might also just be worth your time to check your medications on GoodRx or have me do it here, or with one of our other advisors.
We're always looking to save people money, and I've had plenty of prescription drug plan holders here with us who we've used or recommended GoodRx to them to save them money. So, it's still important to have a prescription drug plan. Hear us out, do not get off of your drug plan if you're able to save some money on your medications through GoodRx. We want to make Medicare simple, and part of that is by saving you money. So go ahead, give us a call, schedule a consultation to go over your prescriptions with you, especially in the next few months here as we lean into the annual enrollment period, where you can choose a new drug plan. Maybe you're paying a lot for your medications now, so GoodRx might be a temporary solution until we can get you on a drug plan that just has lower copays and deductibles and saves you even more money than what GoodRx does. So, go ahead and schedule a consultation with us now for the annual enrollment period, where I or another advisor can go through your medications and make sure you've got the very best price for them. We always promise two things. Number one, it's entirely free to you. It doesn't cost you anything for us to take a look at your meds on GoodRx and other prescription drug plans. Number two, it's always less than an hour. We want to make it simple.
Number: 1-608-784-8969
Schedule an Appointment on Your Time